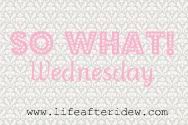 Linking up with Life After I Dew for So What Wednesday, the blog post to write when you want to get anything and everything off your chest!!
So What if The Mavs rocked the Heat's world by winning the Championship in Miami!! It was awesome!

So What if it was just as sweet to see LeBron lose as it was to see the Mavs win!

So What if I was bummed that the hubs and I didn't get to do anything special for our anniversary Saturday night. I guess I should just be happy that we were together.

So What if the hubs and I sat outside Sunday night after the kids were in bed, lit the chiminea and had a few beers. It was so romantic, HOT but romantic!

So what if the best family moments can be created for free! Watching a live band together is so much better than sitting at home in front of the tv! Van Gogh's Ear rocked and the kids got free ice cream!

So What if I hate having a child back in our bed, but I love that Brayden just wants to be close to mommy.

So What if I am happy that the above moments only happen once in a while and not every night.

So What if I am mad that my super cute blog completely messed up, and now I am back to the bare minimum!

So What if I suck so bad at html code, that I cannot figure out how to go back to 3 columns instead of 2!! I want my 3 back!
What are your So What's for the week??