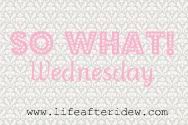 So What if I didn't dress up at all this past week, it has been a long, stressful week and I just haven't felt like it. It may have improved my mood, but whatever!!

So What if it is too hot to even step foot outside with out sweating up a storm, so we have vegged out in front of the tv. It is 100+ degrees! Why even attempt to go outside?

So What if I am absolutely in love with Bunny Tracks ice cream. I am proud of myself for not eating it for lunch!

So What if I am on pins and needles waiting to get a call back from a job interview. I have never had a phone interview, and I am hoping I did well enough, to get to the 2nd round of interview. *If you pray, please pray that this is in God's plan for me!! This could be a great opportunity!

So What if the stress was just too much yesterday, and I sat in my bathroom and cried it out. Brayden was the sweetest baby ever, and just sat there hugging his momma with his head on my shoulder, which in return made me cry even harder. I almost wish I was able to capture that moment in time. My sweet sweet baby!
What are you saying So What too this week??