After all my hard work in April posting 26+ posts, mostly for the A to Z Challenge, I needed to take a small break (3 days) from blogging. I hope you all understand! I am back though, and stronger than ever LOL Not really, but I am back. I want to say "hello" to all my new followers!! Thank you so much for coming on this journey with me as I grow and expand this little blog of mine!
Now onto the main post. I found an awesome link through Lindsey at Lovin My Life. So What Wednesday is the brain child of Shannon over at Life After I "Dew", check it out! Okay I think that is enough introduction, here is what I am saying SO WHAT to this week: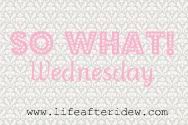 So what if my little kids stay in PJ's till we go pick up big sister, we are not doing anything special.

So what if my kids get their feet dirty playing outside with no shoes no after it rained. I loved playing in the mud when I was little, and I turned out just fine!

So what if my DVR is overloaded on Wednesday nights, there are just too many good shows. I watch The Middle, Better With You, Modern Family, UFC, and my hubby watches Justified. It has gotten a lot better since Top Chef is over. What do you watch??

So what to Brayden only napping in my bed. He sleeps great there, and he does sleep in his crib all night.
Do you have any SO WHAT's this week?? Link up with me, Lindsey, and Shannon!