Wednesday is slowing becoming my favorite day because I can get things off my chest in my SO WHAT post! I hope you enjoy my ranting and will add some of your own SO WHAT'S!
So what this is my 3rd post for the day :)

So what if the DFW storms scared the crap out of me last night! I am a huge baby when it comes to tornadoes, and I am even more scared now that something could happen to one of my babies during a terrible storm.

So what if texting was a must last night. I have family and friends all over the metroplex, and we all had to make sure we were all ok.

So what if I don't clean my girls' dirty room for them more than once a month. I didn't make the mess why should I have to clean it on a daily basis? I just get to go in and clean it out and throw stuff away!

So what if I am rooting on the Mavs! They are up in the Western Conference Finals 3-1 vs. the Oklahoma City Thunder and I want them to go all the way!
That is all for today, linking up with Mrs. Dew!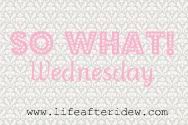 What are your So What's??
Here are a few photos taken from the WFAA website from last nights storms: