Have you seen that I reached 100 followers and that I am having a giveaway?? Check it out here!!
I am linking up again with Life After I Dew, for another edition of So What Wednesday!!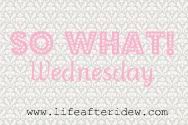 So what if I carry a Park Lane catalog and order forms with me in my diaper bag. I guess I am hoping to sell to someone that I would meet in a store, but that would involve me leaving the house with my hair fixed and my makeup done, and that hasn't happened lately.

So what if I feel like a blob since I haven't worked out in a week in a half!! I need to get off of my booty and get to work!

So what if I hate that my stuff never sells on Craigslist! I need it gone people, please buy it!

So what if I never make my bed in the mornings but I always fix the sheets before I get back in it to go to sleep.

So what if it has been too hot for me to wear makeup or fix my hair. I am not really going anywhere anyways.

So what if I cannot tell you the last book that I read. I never can find time to read, except at night, and then I just want to fall asleep.

So what if last night's game between the Mavs and the Heat was a nail bitter, the Mavs pulled it out!!!
What are your So What's for the week??