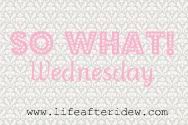 So what if I am tired of buying baby food and made my own sweet potato puree last night! Brayden loved it, it was easy and cheap, and I have a ton of leftovers to freeze! Score, Score, and Score!

So what if I am nervous about writing a resume! I have NEVER had to write one!!

So what if I love being a jewelry consultant for Jewels by Park Lane, but the money just isn't rolling in like I want it too, which is why I have to write a resume!
So what if I think everyone who has a blog should sign up with Social Spark! What is not too love, you get paid to blog and you can accept or turn down any of the offers!!!
So what if I have been avoiding house cleaning like the plague, I will do it eventually

*ok more like later today, well probably*

So what if our family trip to the movies turned out to be a big old flop

*which really means I was in the hallway with the baby*,

the girls had fun and I loved eating my Mr. Goodbar at home all day yesterday!

So what if the girls and I had cereal for dinner last night. We got home from the store at 7 after my first ever Ad Match shopping trip to Wal-Mart.
What are your So What's for the week??? Go ahead, get it off your chest!!!