So what if I hung up a bed skirt as a curtain, I am hoping it will keep the house cooler in the evenings.

So what if I don't start cooking dinner till 6:30, I can't eat any earlier.

So what if the Mavs lost the first game against the Heat, they WILL come back!

So what if I am more than a little excited for the annual Carino's softball tourney in Austin! I look forward to it all year. What makes it even better?? A total kid free night!!!

So what if I am hounding everybody to order some Park Lane Jewelry from me, this is my new business and I need to make some money! Plus their jewelry is fabulous and has a lifetime warranty! LIFETIME people!

So what if I haven't had any motivation to work out this week, at least I am eating great!!

So what if we bought a rinky dink pool and slip and slide for the kids. All they want to do is play in the water, they don't care what it looks like.

So what if I have a beer every night! I deserve it being a stay at home mom!
I think that is all for this week!
Linking up as always with Mrs. Dew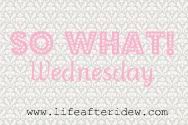 What are your SO WHAT's???