I have been in a posting slump lately, so I am linking up with Holly today talking about my wedding day. It is really hard for me to believe that I have never written about my our special day, but I guess I never really thought about it. So here it goes: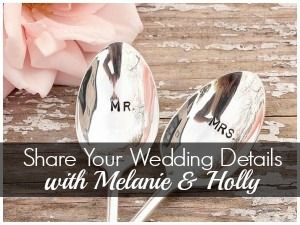 I will have to post one day on how Marco and I met, but for now just know that we got knocked up (I know so classy) in December 2003, but I wasn't going to marry him just because we were pregnant. He proposed one night in 2004, after we had our daughter, while we were on a date at the Addison Improv. We got married on June 11, 2005 when our daughter was 9 months old.
Location:
The location was Rockwall Wedding Chapel, it is a really old church and I loved the look and the feel of it. I had a friend from high school sing Kelly Clarkson's "A Moment Like This" when I walked down the aisle. It was amazing! Except, I would like to redo my walk down the aisle, I rushed it. I didn't take it all in.
The old church had ac, but for some reason it had not been turned on. We got married in the early afternoon, so it was hot! We were sweating like pigs, till my maid of honor's dad got up and turned on the ac.
Our ceremony went like this: Our pastor (a school friend's dad) told stories about me when I was younger, we lit a unity candle (that I still have displayed in the house), we said our vows, and we kissed. Then we took tons of pics. That was it. Short and sweet.
Colors: My colors were light pink for the girls and yellow ties for the guys. My flowers were Tiffany Roses and pink and yellow roses. My name is Tiffani Rose so of course I had to have those. They are a gorgeous rose that flows from pink to light yellow.
First Dance: Our first dance was great, but for the life of me, I cannot remember to what song. It was a long time ago and the hubby picked it out. Boo, bad wife moment!
Honeymoon: The wedding night we spent the night at the same hotel as the reception(where I got food poisoning, that was awesome, NOT). Sunday, we went to a cookout at his aunt's house with a lot of his family that had drove in for the wedding, where I spent most of my time upstairs laying down. Then Monday, we flew out to Cozumel for our honeymoon. It was amazing! But our honeymoon needs its own post; we almost didn't make our flight (my fault), our room being given away, getting sunburned, and lots of drinking. It was great overall, and I am very much overdue a beach trip with no kids!!
What would you do different: If I had to do things over, I would have booked the ceremony/reception closer together, it was a 20 minute drive from one to the other, BIG mistake!
Also, I would have hired a better photographer, he was awful! The reception pictures were mostly food, he did not get most of my bridesmaids walking down the aisle, he didn't get me from the front walking down the aisle, and the pictures he took before the wedding of me were in front of an ugly wall and not the "decorated for amazing pictures" spot. Examples:
Yucky brown accordion wall!
Overall, it was a perfect day to marry my best friend, and I would do it again in a heart beat! I felt beautiful, I had a blast, and lots of family and friends were there. I mean who wouldn't want a whole day dedicated to them us!
We just celebrated anniversary number 8 and still going strong!!